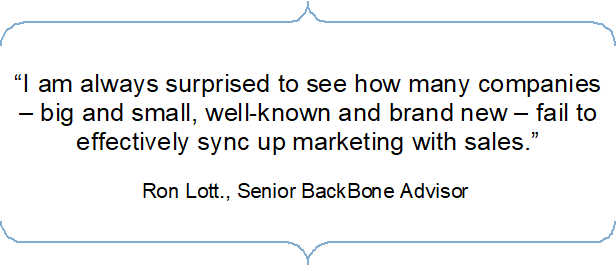 In most companies, sales produces more content than actual sales. But every minute a sale rep spends creating content is a minute he or she is not selling. Sales enablement helps organizations streamline the sales process and shorten sales cycles by improving buyer interactions with better, more relevant sales content and equipping sales teams with the tools they need to be more informed and productive sellers.
We know that nearly 60 percent of the buying decision is made before a lead will talk to sales. That means marketing is already participating in sales enablement.  Yet, according to Hubspot, only about half of the organizations surveyed align their marketing activities with their sales objectives.

BackBone's Sales Enablement Service:   
Sales and Messaging Diagnostic: web-based self-assessments that enable organizations to "audit" their sales/messaging processes.
Content marketing and sales automation to support all phases of the sales process: developing timely, focused content to improve – and sustain – communications with prospects and customers (case studies, product sheets, white papers, ebooks, articles, emails). Helping customers select and use the most appropriate sales automation platform to streamline the targeting and continuous improvement of their sales outreach.
Implementing sustainable, flexible systems to more efficiently find, hire and onboard top salespeople, and building a high performance team.
Sales enablement is about uncovering inconvenient truths by asking the hard questions: what's working, what needs fixing, who should we be talking to and what does she want? Also: what's your story, and are you hiring the best people.
Let us know if you're ready to be asked some tough questions. You might be surprised at your answers. We're offering the first 10 companies that respond a free sales content and technology audit. Please take a moment to fill out the form below and we'll contact you to set up a call.  We look forward to meeting you!